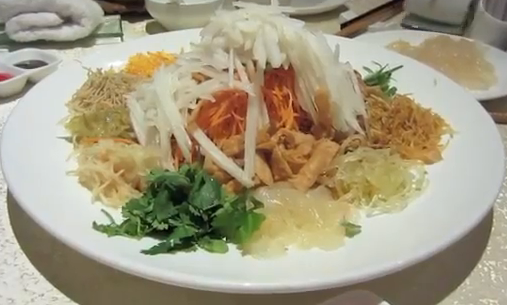 We went to Shogun Solaris for a Japanese buffet with Molly and Guong. We began the meal with a traditional salmon Yu Sheng, prosperity salad for the New Year. Despite the huge spread and cheap prices, this place was almost empty.
---
You can find edible jellyfish in Asian supermarkets. It is very salty so wash well before using.
The following day we went with May to Grand Imperial in Bangsar, where we had another Yu Sheng, this time with jellyfish instead of salmon. We went with Hing's friend, May. Unlike yesterday's restaurant, this one was packed, but Jackie managed to get us in. His Yu Sheng performance was quite theatrical.